Chairman's Statement

2016 proved a challenging year for most international equity markets outside of the U.S.. While the S&P500 Index returned a healthy 9.5%, other major developed markets struggled. The Eurostoxx 50 Index representing 50 large listed companies in the Eurozone fell 2.5% in US Dollar terms over the year and the U.K.'s FTSE 100 lost 4.1% in U.S. Dollar terms, with the Pound Sterling suffering a sharp setback after the Brexit vote in June. The picture in Asia was better with Japan's Nikkei Index adding 3.2% over the year in U.S. Dollar terms, helped by a stronger Yen exchange rate, and the MSCI Asia ex-Japan Index adding 5.4%. While global emerging markets generated mixed returns in 2016, a number of emerging markets across the Asia region were impressive. Thailand's SET Index gained a solid 20.5% in US Dollar terms in 2016 and was amongst the best performing equity markets for the year.

Headwinds facing international equity markets in 2016 included anticipation that there would be a series of interest rate increases during 2016 following the Federal Reserve's decision to lift interest rates in December 2015. In the event, the Federal Reserve chose to stay on the sidelines until December 2016 when, at its very last meeting of the year, announced a 25 bps rate increase. The anticipation of rate rises during the year, however, was enough to send U.S. long term Treasury Bond yields significantly higher. The 10 year Treasury Bond yield bottomed at 1.3% in July 2016 and closed the year at 2.5%.
A second headwind for international market was a series of political surprises. The most notable was the election of Donald Trump as U.S. President, though the Brexit vote outcome sent tremors through Europe, as did the Italian vote on constitutional reforms. Though market commentators predicted that equity markets generally would fall on a Trump victory, citing increased "uncertainty", the weeks since the election have been generally positive for investors in U.S. equities. The moves in the U.S. equity market reflect that a Trump presidency is expected to bring reflation and higher growth, corporate tax cuts, increased spending on infrastructure and lighter-touch regulation.
The reaction to the Trump presidency in emerging markets has been less sanguine. Higher U.S. interest rates, a stronger U.S. Dollar, prospects for a buoyant U.S. equity market and concerns that Trump intends to take a nationalistic approach to trade relations, potentially hampering international trade flows, have seen capital flowing out of emerging markets into the U.S.
Thailand's economic performance in 2016 was lackluster in the face of continued weakness in exports and low agricultural commodity prices which impacted rural consumer spending. GDP growth for the year was close to 3.2%, marginally ahead of growth in 2015.
The Thai government's road map to a return to democracy indicates that an election will be held either late 2017 or more likely in early 2018. In the meantime, the present government has been active in formulating a series of initiatives that are designed to give direction to Thailand's economy over the long term. These initiatives cover many areas including education, infrastructure, pension reform and industrial policy.
Going into 2017, the Thailand economy is stable and in good shape. Yes, domestic consumption will remain subdued, constrained by relatively high levels of personal debt, however agricultural commodity prices are moving higher and this year will see an acceleration in infrastructure investment. We would highlight the government's plans to develop the Eastern Economic Corridor (EEC), the keystone of the Thailand 4.0 road map. The EEC plan envisages spending of over US$ 40 bn on infrastructure and investment in a region covering 13,000 sq km east of Bangkok. Already the industrial heartland of Thailand, the proposed investments and investment incentives will establish the EEC as a major hub in the global supply chain for manufacturing. Moreover, Thailand stands to benefit from anticipated growth in the region, with India emerging as a potentially significant economic driver and along with the prospect of stronger growth in the U.S. Meanwhile, the Eurozone faces challenges, politically and economically in the year ahead, which will keep growth low, however this is more of the same rather than a deterioration in the outlook.
The Thai equity market is arguably fair value rather than good value at current levels. If U.S. interest rates do trend higher in 2017, on inflationary rather than growth expectations, it may prove difficult for the SET Index (and other markets) to deliver strong performances in 2017; however price levels in Thailand are supported by the prospects for growth in Earnings per Share across the market and generally sound balance sheets.
In terms of the group performance in 2016, Finansa Plc. (Finansa) reported revenues of Bt.417.1 million (-56% YoY) and Net Income of Bt.130.7 million (-77% YoY). Year on year comparisons are difficult as 2015 saw a series of one off disposals in 2015 which lifted reported sales and earnings significantly in that year. The disposals in 2015 included Finansa Securities' Membership of the Stock Exchange of Thailand. As a result of those transactions, Finansa entered 2016 as a leaner operation with a stronger recurring income base. The 2016 performance can be viewed, in effect, as a base from which Finansa's sales and earnings will expand in the future.
From an operating perspective, the highlights of 2016 included the growth in income from Warehouse and Factory rental. This income derived from the acquisition of 89,024 sqm of warehouse and factory space at the Bangkok Free Trade Zone accounted for a significant 45% of the Finansa's Total Income in 2016 and provides a substantial recurring revenue base for the Group going forward.
2016 also saw a 40% increase in the Share of Income from Associated Companies to Bt.96.6 million. This reflects a combination of a strong performance by affiliated company, Finansia Syrus Securities Plc., which reported an impressive 68% increase YoY in consolidated net income, and the Group's acquisition of a 9.78% stake in the listed real estate development company, MK Real Estate Development Plc.
Finansa Securities Ltd.(FSL) had a quieter year with a number of investment banking mandates witnessing delays that will push reported income into 2017. However it is pleasing to report that FSL acted as an advisor and underwriter to BCPG Plc. for its US$ 170 million IPO in 2016. The transaction was named as Thailand's IPO Deal of the Year for 2016 by The Asset Triple A, underscoring the Investment Banking Team's reputation for excellence within the industry.
On the investment side, a joint venture in Private Equity with the Japanese group SBI Holdings was ended after a two year trial period after it became clear that the deal pipeline was of insufficient depth and quality to build a meaningful track record across the region in a timely enough fashion. The split was amicable and Finansa proceeded to complete the one significant transaction that had been identified. In December 2016, Finansa announced that it had invested Bt.237 million in NEO Corporate Co., Ltd, an established and successful manufacturer and distributor in Thailand of household and personal care products.
Another noteworthy development was the Fitch decision to retain Finansa's Credit Rating at BBB- (tha) with a stable outlook. This rating supports Finansa's ability to issue short and long term debentures.
Going into 2017, the prospects for Finansa's group businesses are encouraging. The Group has a more solid recurring income base through its leasing income, there is a healthy pipeline of investment banking mandates and Thai equity market conditions remain buoyant which will support the securities brokerage activities.

Bt. Million

Consolidated Financial Statements
2019
2018
2017
Revenues
Revenues from business operation
279.0
517.7
454.9
Other income
26.4
4.1
27.6
Total income
305.4
521.8
482.5
Costs and Expenses
Finance costs
64.3
53.7
52.5
Business operation costs and expenses
220.3
261.1
237.6
Servicing and administrative and other expenses
42.7
47.9
43.0
Other expenses
63.0
102.2
73.1
Total costs and expenses
390.3
464.9
406.2
Share of profit from investments in associated companies
(7.1)
27.7
74.9
Income tax - income (expense)
9.4
(20.5)
(18.9)
Net profit for the year
(82.6)
64.1
132.3
Earnings per Share (Bt.)
(0.24)
0.25
0.54
Consolidated Financial Statements
31-Dec 2019
31-Dec 2018
31-Dec 2017
Total Assets
4,096.7
4,359.8
3,592.1
Total Liabilities and Shareholders' Equity
- Total Liabilities
1,421.3
1,537.3
1,312.4
- Total Shareholders' Equity
2,675.4
2,822.5
2,279.7
Total Liabilities and Shareholders' Equity
4,096.7
4,359.8
3,592.1
Issued and paid-up share capital (share)
247,039,600
345,855,440
2019
31-Dec 2019
2018
31-Dec 2018
2017
31-Dec 2017
Net Earnings to Total Income
-27.0%
12.3%
27.4%
Return on Average Total Assets
-2.0%
1.6%
3.6%
Return on Average Total Shareholders' Equity
-3.0%
2.5%
5.9%
Debt to Equity (times)
0.53
0.54
0.58
Book Value per Share (Bt.)
7.74
8.16
9.23
(Bt. Million)

Consolidated Financial Statements (Quarterly)
Q4-2018
Q1-2019
Q2-2019
Q3-2019
Q4-2019
% QoQ
% YoY
Revenues
Revenues from business operation
237.0
62.3
75.3
64.0
77.4
-15%
-67%
Other income
(1.0)
5.7
10.4
1.2
9.1
-88%
-1010%
Total income
236.0
68.0
85.7
65.2
86.5
-24%
-63%
Costs and Expenses
Finance costs
15.1
16.0
16.3
15.9
16.1
-2%
-63%
Business operation costs and expenses
88.9
54.9
61.6
59.9
43.9
-3%
-51%
Servicing and administrative and other expenses
13.6
10.7
10.3
10.5
11.2
2%
-18%
Other expenses
66.7
8.6
8.8
8.5
37.1
-3%
-44%
Total costs and expenses
184.4
90.2
97.0
94.8
108.3
-2%
-41%
Share of profit from investments in associated
11.5
9.1
14.9
(4.0)
(27.1)
-127%
-335%
Income tax - income (expense)
(17.3)
4.0
2.2
3.9
(0.7)
77%
-96%
Net profit for the period
45.9
(9.1)
5.8
(29.7)
(49.6)
-612%
-208%
Earnings per Share (Bt.)
0.18
(0.03)
0.02
(0.09)
(0.14)
-612%
-181%
Consolidated Financial Statements
31/12/2018
31/03/2019
30/06/2019
30/09/2019
31/12/2019
% QoQ
% YoY
Total Assets
4,359.8
4,337.7
4,159.1
4,133.0
4,097.6
-0.6%
-6.0%
Total Liabilities and Shareholders' Equity
- Total Liabilities
1,537.3
1,533.5
1,413.5
1,420.1
1,421.3
0.5%
-7.5%
- Total Shareholders' Equity
2,822.5
2,804.2
2,745.6
2,712.9
2,675.4
-1.2%
-5.2%
Total Liabilities and Shareholders' Equity
4,359.8
4,337.7
4,159.1
4,133.0
4,096.7
-0.6%
-6.0%
Issued and paid share capital(share)
345,855,440
Key Ratios
Q4-2018
30/12/2018
Q1-2019
30/03/2018
Q2-2019
31/06/2018
Q3-2019
31/09/2019
Q4-2019
31/12/2019
% QoQ
% YoY
Net Earnings to Total Income
19.5%
-13.4%
6.8%
-45.6%
-57.3%
Return on Average Total Assets
1.2%
-0.2%
0.1%
-0.%
-1.2%
Return on Average Total Shareholders' Equity
1.8%
-0.3%
0.2%
-1.1%
-1.8%
Debt to Equity (times)
0.54
0.55
0.51
0.52
0.53
8.16
8.11
7.94
7.84
7.74
-1.2%
-5.2%

* annualized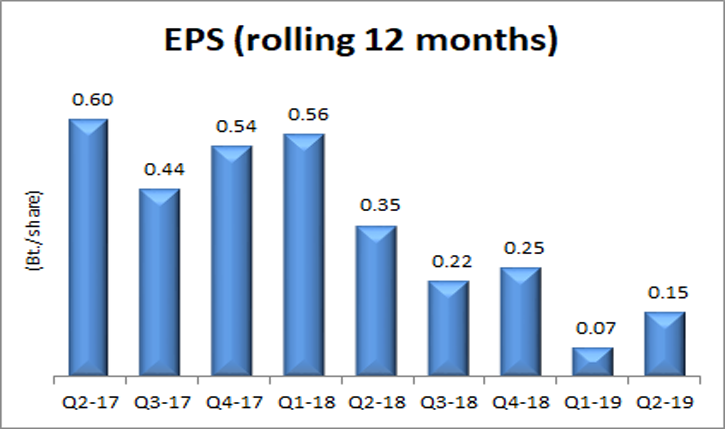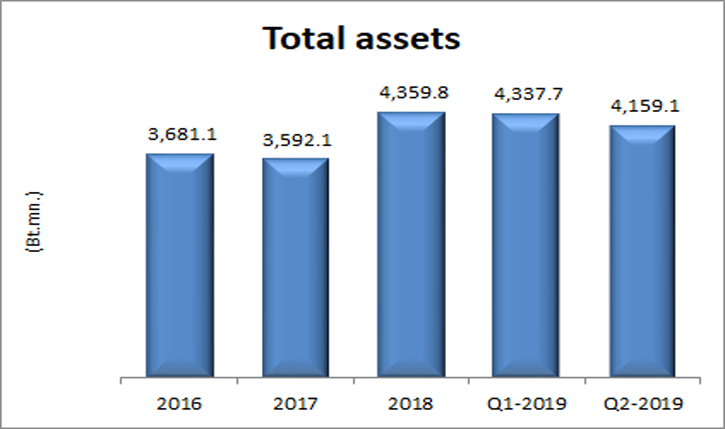 TOTAL SHAREHOLDERS' EQUITY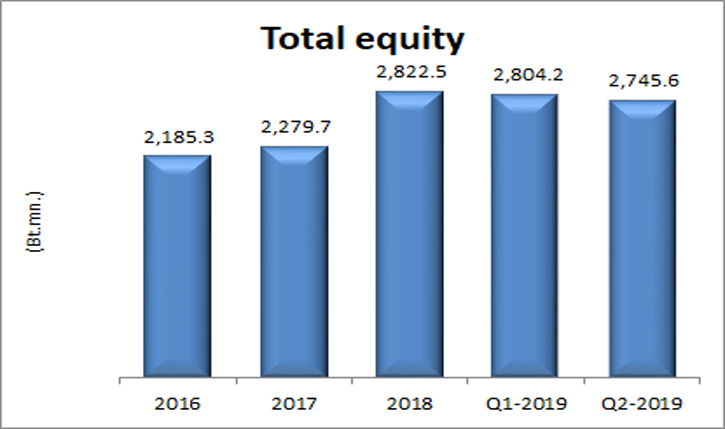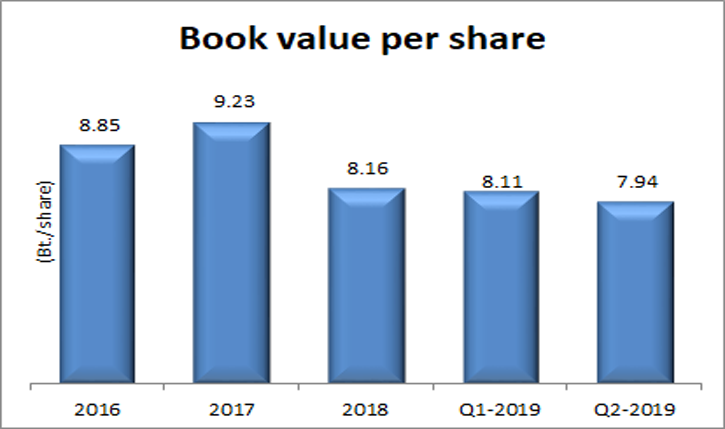 | | | | |
| --- | --- | --- | --- |
| Period | Amount | XD Date | Payment Date |
| 1-Jan-18 to 31-Dec-18 | Bt 0.15 | 3-May-19 | 21-May-19 |
| 1-Jan-17 to 31-Dec-17 | Bt 0.15 | 7-May-18 | 24-May-18 |
| 1-Jan-16 to 31-Dec-16 | Bt 0.10 | 3-May-17 | 24-May-17 |
| 1-Jan-15 to 31-Dec-15 | Bt 0.10 | 3-May-16 | 19-May-16 |
| 1-Jan-15 to 30-Jun-15 | Bt 0.20 | 14-Oct-15 | 27-Oct-15 |
| 1-Jan-14 to 31-Dec-14 | Bt 0.10 | 8-May-15 | 25-May-15 |
Invitation to shareholders to propose the Annual General Shareholders' Meeting Agenda and Director Nominee in advance >> For details,click here(Thai only)